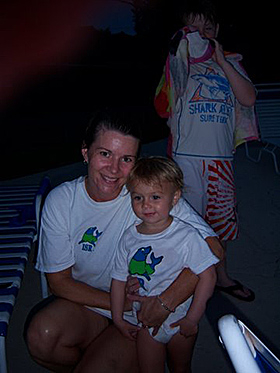 My Name is Tabitha McLeavy. I am a mother of 4 and have been a member of the Alachua County community for the past 20 years. I moved to Florida with my husband in 1995. I graduated from Nova Southeastern University with a degree in special education. I had the pleasure to work as a teacher in the Alachua County school system as a VE resource teacher. Since becoming a mother, I decided to dedicate my time to my family. I now enjoy working with children and teaching them life long water survival skills which I have been involved in for 11 years. This profession is a joy to me and is profoundly rewarding.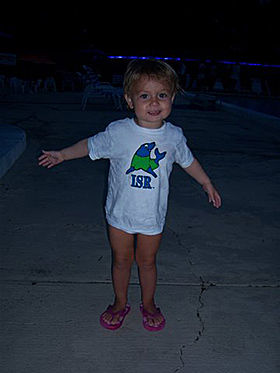 I grew up in Southeastern Massachusetts along the coast. As a child I spent a lot of time on the water fishing with my dad and three brothers and catching lobsters on his lobster boat. Some of my fondest memories are of spending endless hours swimming with family and friends. My love of the water was embedded at an early age.
I first learned about ISR when my oldest son was four years old. I was impressed with the quality of the training he received and felt that all of my children would experience the same life saving water education. During a visit with family in Massachusetts, my youngest son, Peter, fell into the deep end of a family pool. Although he was surrounded poolside by family it did not matter. The incident occurred so fast that nobody had the time to react until he had gone under water. He was just 18 months old. Peter had just completed his ISR training and immediately exercised his new survival skills. He swam to the surface and over to the side of the pool as quick as help could get there. The incident confirmed to my husband and I that ISR was the right thing for our children. Along with my love of the water, children, and educational background I found that ISR was the right career choice for me.
I hope to be able to meet your children and teach them the same survival skills that have been taught to my children.
Do you have any questions about ISR? Download our Frequently Asked Questions page to see what other parents, like you, are asking.